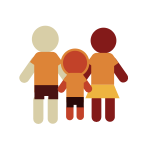 Family Services aims to promote child safety and wellbeing. It also works to increase the resilience of Aboriginal families.
Services include:
Family and child-centred practice
Minimising the risk of families experiencing difficulties with the Department of Human Services and Child Protection
Easing the pressure of parenthood through tips and assistance
Family Services applies Best Interest principles, recognising the importance of culture and tailoring services to meet the needs of both child and family. It is available to Aboriginal and Torres Strait Islander Families in the Dandenong and Southern Region.
For more information, call our Family Services Team on (03) 8902 9700.
BUNURONG ABORIGINAL HEALTH SERVICE
(c) 2022 Dandenong & Districts Aborigines Co-Operative Limited