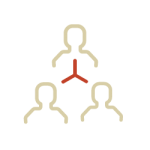 Jenny Ockwell – Chief Executive Officer
Jenny is a Wurundjeri woman born on country in Healesville, and has been a member of the DDACL since 1977. She has been employed as the Manager – Aboriginal Health Services at DDACL since January 4th, 2017.
During her relationship with this Organisation she has developed a connection which has formed a deep commitment to improving measurable outcomes in the administration and operation of the Cooperative.
Jenny has a Diploma in Practice Management and is currently finishing a Master's Degree in Public Health at Melbourne University. Her dedication to Aboriginal and Torres Strait Islander health is borne of witnessing the demise of many loved ones over the decades – passing's which could have been avoided had knowledge been readily available and education supporting lifestyle changes been given to community members.
Jenny has been involved in Aboriginal affairs since the late 1970's and has been employed at the Cooperative in a number of Administration roles throughout her working life. Jenny was employed at Centrelink for 17 ½ years during the 80's and 90's, which equipped her with an ability to interpret and implement Government legislation. Most recently, she has been employed in a number of management roles in ACCHO's.
Jenny is a mother of 2 boys and 2 girls, a proud grandmother of 4 boys and a proud step-Nan of 3 (2 granddaughters and a grandson). Her interests are developing native gardens which support Australian bird life, preserving our Oral Histories, reading and she is passionate about improving positive outcomes in Indigenous health.
Minh Nguyen – Manager Social and Community Services
Minh has lived in remote Aboriginal communities and worked with Aboriginal peoples when living and working in the Northern Territory over a seven-year period. During this time, Minh has worked in the legal, health and community sectors where she interacted with Aboriginal peoples from a range of backgrounds and roles.
Minh has qualifications in law, humanities and social work which have been brought effectively together in her various roles in the social and community sectors. These include roles in supporting women experiencing workplace problems, research and evaluation, systemic advocacy and sector development. In her work, Minh is committed to building capacity for individuals, families and communities to thrive and become the best version of themselves.
Minh has a strong commitment to the needs and aspirations of the local Aboriginal community, and believes that Aboriginal and Torres Strait Islander health and wellbeing can only be addressed when we also address the fundamental issues of dispossession, cultural identity (and community) and the place of Aboriginal and Torres Strait Islander people in our national identity. This underpins her approach to working in, and with, Aboriginal organisations and communities.
BUNURONG ABORIGINAL HEALTH SERVICE
(c) 2022 Dandenong & Districts Aborigines Co-Operative Limited