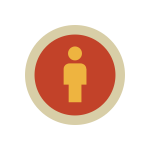 The desire for independence doesn't diminish with age. Home & Community Care Services aims to assist Elders to live independently for longer in their homes.
Services include:
Access to social programs in the community
Regular home visits
Maintenance services, such as lawn mowing
Personal care services
Home & Community Care Services are available to Aboriginal and Torres Strait Islander people in Dandenong and Southern Region. Assessments may be required prior to access.
For more information, contact the DDACL Home & Community Care Co-ordinator on (03) 8902 9700.
As part of DDACL's Aged Care and Disability Services, we also offer a Planned Activity Group. The Planned Activity Group aims to promote the physical and mental wellbeing of Aged Care and Disability clients, as well as helping them to increase their social engagement. 
If you would like to learn more about the Planned Activity Group, please click on the icon below.
BUNURONG ABORIGINAL HEALTH SERVICE
(c) 2022 Dandenong & Districts Aborigines Co-Operative Limited